Foundation and Corporate Giving
Our mission depends on the support of dedicated companies and foundations that understand the importance of our work and mission.
On any given day, Calvary Hospital cares for over 225 people who are living their last days at our main campus in the Bronx or our campus in Brooklyn. Both hospitals are at 96% capacity and we provided care to thousands of inpatients. In addition, we are now caring for even more patients and families through Calvary@Home.
At a time when reimbursements are diminishing and mergers and acquisitions are on the rise, Calvary remains a fiercely independent market and thought leader and the one and only of its kind. Not only is Calvary one of the largest end-of-life healthcare providers in the New York Metro area, but we are also the only provider that serves New York City, Westchester, Nassau, and the lower Hudson Valley
Partnering with Calvary Hospital helps to support our Bereavement, Family Care and Social Services programs not covered by insurance reimbursement and it helps Calvary to continue to provide care for over 6,000 patients and families annually.
Our Foundation Relations Director is eager to answer your questions and provide more information about Calvary Hospital.
For more information, please contact:
Mariella Arroba
Director, Corporate and Foundation Relations
Phone: 718-518-2128
Email: marroba@calvaryhospital.org
Support Calvary Hospital Programs
For more than 120 years, Calvary has held steadfast to our sacred mission and values, regardless of the ever-turbulent economic and regulatory environment in which we operate.
Despite limitations on insurance coverage and reimbursement, Calvary is a vital, growing and indispensable part of the healthcare landscape.
Today, Calvary more closely resembles a healthcare system than a hospital, by virtue of our reach and full-spectrum of end-of- life-care, including palliative home care, at-home hospice, inpatient hospice, as well as acute care (hospital) services. No other provider matches this range of capabilities.
Hospice Care: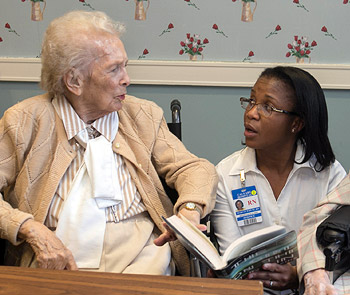 Through partnerships with more than 25 nursing facilities, The Dawn Greene Hospice at Mary Manning Walsh Home in Manhattan and Ozanam Hall of Queens Nursing Home, Calvary@Home serves nearly half our patient population each year.
A hallmark of Calvary@Home is its seamless integration with Calvary's inpatient services. This means that as a patient's illness progresses and they need a greater level of care, Calvary will always be able to provide care to the patient and those of their family members without delay and without compromise.
Spiritual Care: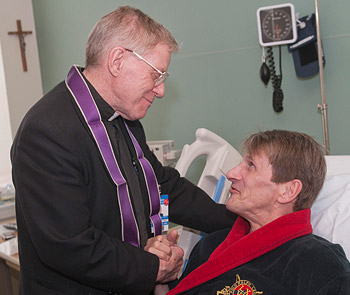 Most hospitals employ just a handful of chaplains for their patients. Spiritual care is so valued at Calvary, we employ 30 full-time chaplains who are available 24/7 to care for the spiritual needs of patients and families.
These services are not reimbursable for inpatients nor Calvary@Home patients, yet amount to more than $1M annually.
Family Care: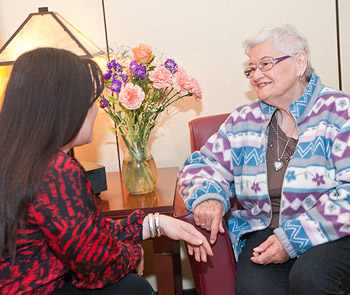 Social Workers play an integral role in the lives of our patients and their families. The Family Care Center, located at the Bronx Campus, is a model for a family-centric approach to patient care, recognizing that this process doesn't just afflict the patient, it impacts the entire family.
Social Worker/Family Care Practitioner is assigned to each patient and their family on the day of admission. The assigned worker is available 24/7 to assist them. Additionally, our Family Care Center offers an area of respite and a variety of complimentary services to maintain wellness and decrease stress. As part of the health care team, this staff works closely with doctors, nurses and other staff to develop a treatment plan for each patient.
Bereavement Care:
Bereavement support is not reimbursed by private or government insurance and Calvary has one of the most robust bereavement programs in the U.S. Calvary offers grief counseling and support groups to adults, children and teens dealing with grief.
A Calvary connection is not necessary and all are welcome to participate. We offer bereavement support free of charge as part of our mission of compassion and non-abandonment.
Calvary currently serves thousands of members of the community each year through two dozen bereavement support groups that meet in the Bronx, downtown Brooklyn and Manhattan.
Calvary's Camp Compass: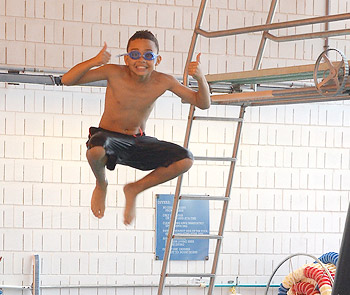 Calvary's Camp Compass® is a weeklong summer camp for children and teenagers, from ages 6 to 18.
The camp combines traditional activities such as swimming, fishing, basketball, and arts and crafts with special bereavement activities.
With one staff member for every two children (typical camps are one staff member to eight children), we can dedicate more attention and comfort to each child who comes to us struggling with grief.
Thanks to the generosity from several foundation and corporate supporters over the years, Calvary's Camp Compass® is able to offer access to the camp at no cost to any child in the community who has lost a loved one to illness, accident, or violence.
In order to qualify children must have attended our groups in the past or be currently enrolled in one of our groups.
Partner with Calvary!
Calvary Fund couldn't do what we do to support Calvary Hospital without the support of our corporate partners.
Join a select group of corporations and businesses committed to providing support to with gifts of $5,000 or more.
Corporate Membership Levels & Benefits
We are excited to introduce a new Corporate Partners program for Calvary Fund to support Calvary Hospital. This program is for a business, corporation or foundation that gives a minimum of $5,000 in qualifying gifts during a 12 month period. Below is an outline of our new giving levels and benefits to access throughout the year.
For more information, please contact:
Mariella Arroba
Director, Corporate and Foundation Relations
Phone: 718-518-2128
Email: marroba@calvaryhospital.org
Join the companies that support Calvary's mission.